RAYMOND JAMES AT A GLANCE*
Founded in 1962, providing individual solutions for individual investors.
Over 7,500 advisors, Over 3,000 locations around the world.
Client assets in excess of $727 billion dollars.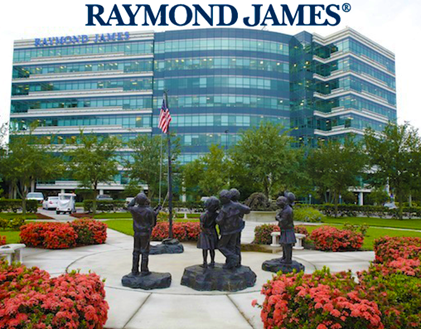 Despite the financial turmoil of the past few years, Raymond James has delivered 121 consecutive quarters of profitability. We credit much of this performance to the firm's client-first perspective and adherence to its founding core values of professional integrity, advisor independence, and a conservative, long-term approach to investing.
Raymond James recent honors and accolades include:
In June 2016, Raymond James was named to the Fortune 500 list.
Continuing its tradition of giving back, Raymond James and its associates donated $49 million to charitable organizations in fiscal year 2017, including $5.36 million to the United Way and its partner agencies.

Raymond James was the first in the nation to publish its Client Bill of Rights, setting the standard for the industry.
*As of 03/31/2018. Past performance is not an indication of future results. The information provided is for informational purposes only and is not a solicitation to buy or sell Raymond James Financial stock. The FORTUNE 500 is an annual list by FORTUNE magazine that ranks 500 of the largest U.S. corporations based on fiscal-year total revenues. FORTUNE and FORTUNE 500 are registered trademarks of Time Inc. and are used under license. From FORTUNE Magazine, June 15, 2016. © 2017 Time Inc. Used under license. FORTUNE and Time Inc. are not affiliated with and do not endorse products and services of Raymond James Financial, Inc. Raymond James Bank is an affiliate of Raymond James & Associates, Inc., and Raymond James Financial Services, Inc. © 2017 Raymond James & Associates, Inc., member New York Stock Exchange/SIPC © 2017 Raymond James Financial Services, Inc., member FINRA/SIPC. Investment products are: not deposits, not FDIC/NCUA insured, not insured by any government agency, not bank guaranteed, subject to risk and may lose value. 17-BDMKT-2574 4/17